CURRENT VOLUME
---
---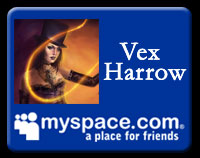 OTHER WONDERFUL LINKS

The Ungodly Hour, a Gothic/Industrial/Harsh EBM radio show worth listening to... Music for the rest of us.



Ravings and madness of one dramatic arts student, and goth – in blog form.



7 Shades of Black, a web comic featuring a goth artist, Death, and a totally insane cat named Poe.



Click here for Gothic Angst Webzine!