CURRENT VOLUME
---
---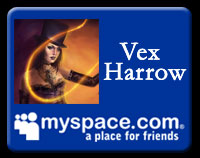 MEET THE ARTISTS
Luis Boisvert

- Luis is a Canadian from Prince Edward Island and much loved by me. His work is not well known where I live, but I intend to bring the light of his talents to the rest of the world as he has done great things for me. His artwork covers a grand meagerie of styles from highly capable 3d artwork on computers to comic-style artwork. His involvement in the Vexations project brings a warm feeling to my heart and has helped me kick-start this project from where I left it dead six months ago.

Website:
http://www.loveandhotsauce.net
Vexations work:
Volume One: Vexations cover illustration; Have a Merry Vexing Christmas cover illustration; The Legend of Sleepy Phoenix cover illustration.
Leave comments for Luis Boisvert in the forum.
---
Megan Lee Beals

- Megan lives in a place far from Arizona, where it seems to constantly rain. She is a writer of children's books, who occasionally dabbles in the wondrous world of visual arts with the help of her ballpoint pen, and a hefty amount of charcoal. In lieu of actual training, she mostly concerns herself with adapting movies, stories, and anything that piques her visual interest into her own, slightly bizarre style. This usually results in a vast amount of zombies and robots, and the occasional cute little girl. She is pleased to be involved in the Vexations project, because the world could always use another really good read.

Vexations work:
Volume Two: The Calm Before cover illustration.
Leave comments for Megan Lee Beals in the forum.
---
Jodie Azhar

- Jodie was commissioned to create the cover artwork for Volume 3. She has a web page that I encourage people to visit.

Website:
http://tangentine.com
Vexations work:
Volume Three: Incantations of Incarnation cover illustration.
Leave comments for Jodie Azhar in the forum.